Nothing "
Dry
" About This Site
Dry Icons.com has got to be one of "Thee Best Sites " which I had the pleasure of stumbling upon recently . These guys produce some of the best Web Related Designs out there on the cornerstone of the www. ! Like what you ask ? Well...let me tell you :

For starters : This site runs as smooth as
Satin Sheets
! It loads as if it were an Ajax based site and that alone makes my Browser love them even more . Now aside from their beautifully smooth running site , these guys over @
Dry Icons
possess skills at coding and a creativity to match those skills. I don't believe these guys ever stop creating & producing everything & anything Web related - it's like a bakery that keeps turning out muffins ! except in the case of Dry Icons its...yep , you guessed right : ICONS !
Dry Icons must definitely have every single Web Related Icon you will ever need ( whether you are a Web Designer , designing a personal Web Page or simply running a personal or biz Blog ) - these guys have left nothing out . I definitely remained on their site for 2 hours just going over everything and every time I went to the next page I was like "
Ohh..this is NICE !
" . There was nothing on this well organized & splendidly designed site which I did not like ! Yes, there are many well designed sites out there such as Dry Icons you will say , however : This site is a Web design Site , fueled by individuals with a fervor for creating some of the best Web Related Content out there . However : what makes these guys over at Dry Icons even better is : Everything they do create is
For You ! the User
. Which simply means : Everything they create and offer on their site is ....yes -
FREE !
.
* Dry Icons also gives you ( the user ) the
Option
of 'Purchasing a Commercial License' towards 2 of the
Best Designed Templates
I have seen thus far circulating out there on the www. !
The price of the License is peanuts ( in comparison to what the boys over at the Mighty Wordpress offer on most of their Templates ) . Now what I will tell you about these 2 Templates designed by those creative geniuses over at Dry Icons is this :
The 2 Templates being offered for
Free
( along with the option of purchasing a Commercial License for both ) simply have got to be 2 of the most beautiful & elegant Themes I have seen out there . No, no, you have not seen a Theme like this . Aside from their elegant simplicity ( and lest we forget :

Beauty lies in Simplicity

) , these 2 Themes (Stylissimo & Urbanism ) are
Super Packed
with everything a user needs & plenty of more functions & capabilities which you have not even considered yet ! The 2 Themes load so smoothly , that your Browser will pop out of your screen and kiss you for installing any of these 2 themes !
Now as I have stated : a simple '
browser shot
' by no means can do justice to this site - you will simply have to go there to see everything these guys offer , up close. But , I will simply give you a small preview of this magnificent theme right here , just so that you will be given enough incentive to click on the
Dry Icons
button and go to their site so that you can view this theme
Live
.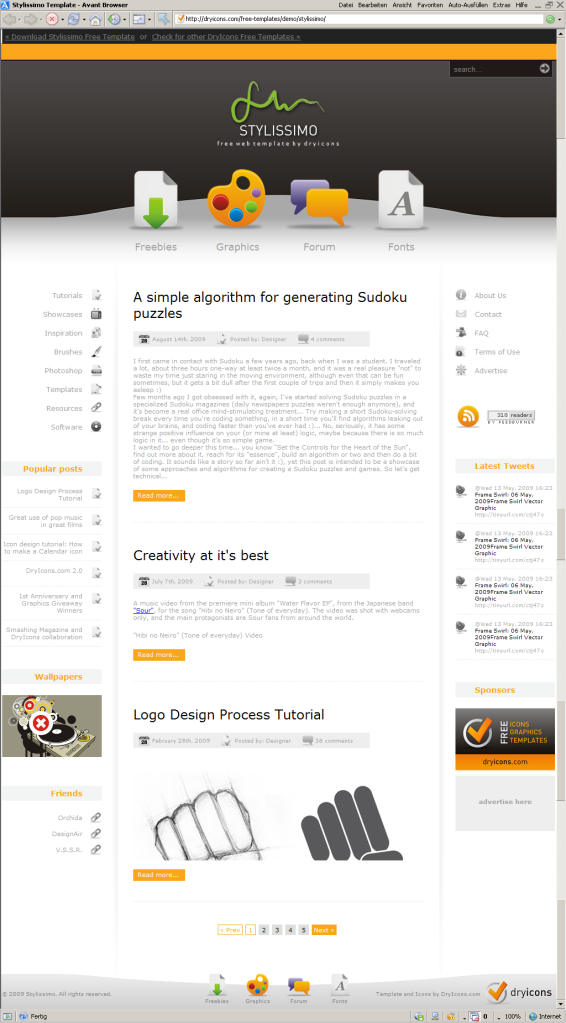 The shot does this theme no justice whatsoever , so do yourself the favor and click on the button below to see the live demo & you can thank me later .
While you are there

Dry Icons.com

, do your eyes the favor and have a look at everything these Super Talented guys offer , such as : Their never ending list of Web Related Icons , and their

Vector Vault !!

. Yes , these guys offer the most &

Best Vectors

I have seen - yes :

FREE !
Keep in mind : The

2 Fabulous Templates

being offered presently @ Dry Icons are currently compatible for

Joomla , Wordpress & as a Website Template ( which means : it comes in simple HTML/CSS format ) . After viewing these themes I know what you all will be saying inside your heads , basically the same thing I said : " Aww..now why couldnt these be compatible for the Blogger Platform as well ??? Why must every good thing out there be made for Wordpress & Joomla or Drupal ? What about us Bloggers ??? " Well..what can I say at this point people ? Maybe the boys over at Dry Icons will take pitty on us poor Theme deprived Bloggers and create their Templates to be compatible with the Blogger platform as well . All we can do at this point is : Hope & Pray that within the vestiges of cyberspace , some Web designers out there will hear our prayers and create at last something for us Bloggies too !
However : there are a myriad of individuals out there such as
Template Conversion Sites
which perform WP to Blogger Template Conversions , and if you want any of these 2 Themes badly enough ( if the boys over @ Dry Icons will not or do not have the time to convert them yet ) you can simply try having these themes converted by one of these Online Conversion Sites . I had posted an article on some of the best WP to Blogger Conversion sites here so if you 'd like these themes converted you can try asking / putting in a request to any of the conversion sites I had listed here . Here is the link to the article >>
Right here
. Take a look at the Conversion sites listed and give it a shot !
Until that day arrives , keep hoping and praying , and in the meantime , head on over to Dry Icons and have a look over at everything they offer ( I am sure that you will find a plethora of things which you will find useful for all of your web related needs & wants , and keep smiling - Mootools & JQuery love you :)
Click above to go to :
DRY ICONS OFFICIAL SITE PAGE